The predominant theme for the 8th ITRA Conference is "Toys and Material Culture: Hybridisation, Design and Consumption".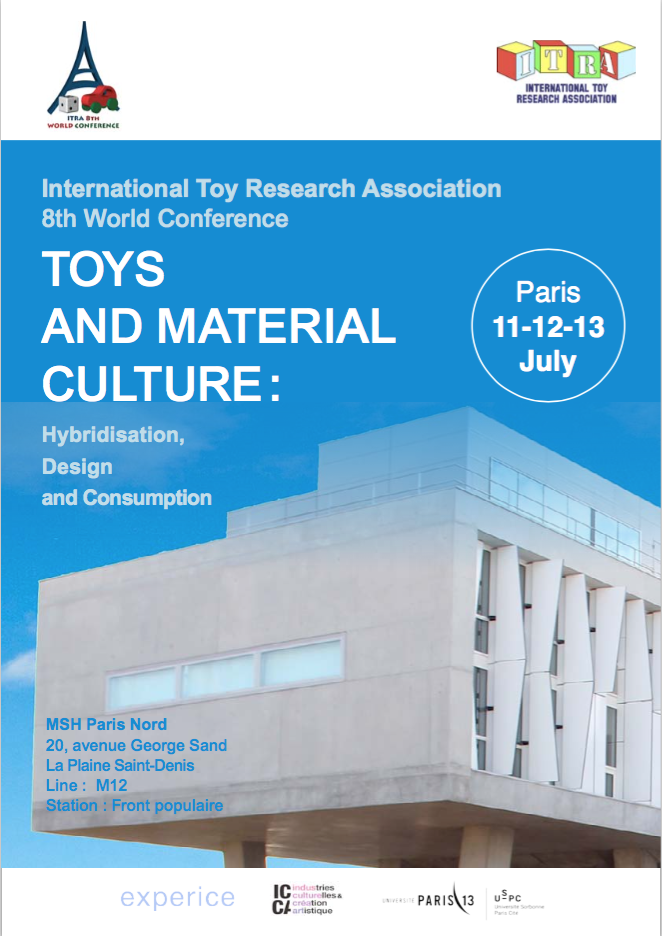 Programme : here
Beyond toys, the conference will explore the place of tangible objects and novel forms of material culture in play. What are the similarities and the differences, the relationships, between toys and other material devices, such as board games, cards, digital games and media-connected objects? Are there, in play, or in the trans-mediated toys themselves, new forms of materiality?
Three words can summarize this topic:
Hybridisation: the mix between toys and other playthings or supports; the trans-media franchising and circulation of characters, contents, fictions, and cross-connected toys; the mix between video games and toys; the relationships between toys and technology; and the question of virtual toys.
Design: the conception of toys and the relationship with other trans-mediated objects addressed to, or of interest to children. Since Experice, our research centre, operates in conjunction with a FabLab specialising in toys and games, known as Ludomaker, we are particularly interested in encouraging proposals from other FabLabs around the world that also specialise in toys and games.
Consumption: the marketing, distribution, and use of toys, and their relationship with different kinds of play objects, including the recycling and transformation of everyday objects into playthings.
In addition to the main theme of the conference, other topics relating to toys and material culture are welcome. This includes, but is not limited to the following topics:
Toy collecting and toy libraries
Toys, education, health and environment
Toys and gender influences
Toys and inter-cultural communication
Toys in history
Trans-generational toys
Toys, signs and meanings
The conference will be held at MSH (Human Sciences House) Paris-Nord, a new and interesting building dedicated to research in human sciences close to a new university campus for human sciences under construction. The conference centre is situated at 20 Avenue George Sand in La Plaine Saint-Denis (part of the Grand Paris conurbation) and is a two minutes walk from the "Front Populaire" Paris Metro station (Line 12). It is situated 4 to 6 stations from the famous Parisian area of Montmartre.
(ITRA) is an association, which was created in 1993 for the purpose of promoting, stimulating and encouraging toy and plaything research all over the world in order to broaden and spread knowledge about toys and promote the development of good toys for children (and adults). ITRA further aims to support and cooperate with local, national, and international organizations having the same purposes, to organize and arrange meetings and issue publications concerning the purpose of the association. The International Toy Research Association currently comprises 96 members from 18 countries. ITRA is run by an executive Board, which is elected every three years in ITRA conferences.