Alternative Cultural Places: Laboratories for sustainable practices, ecological transition and urban resilience in the post Covid era?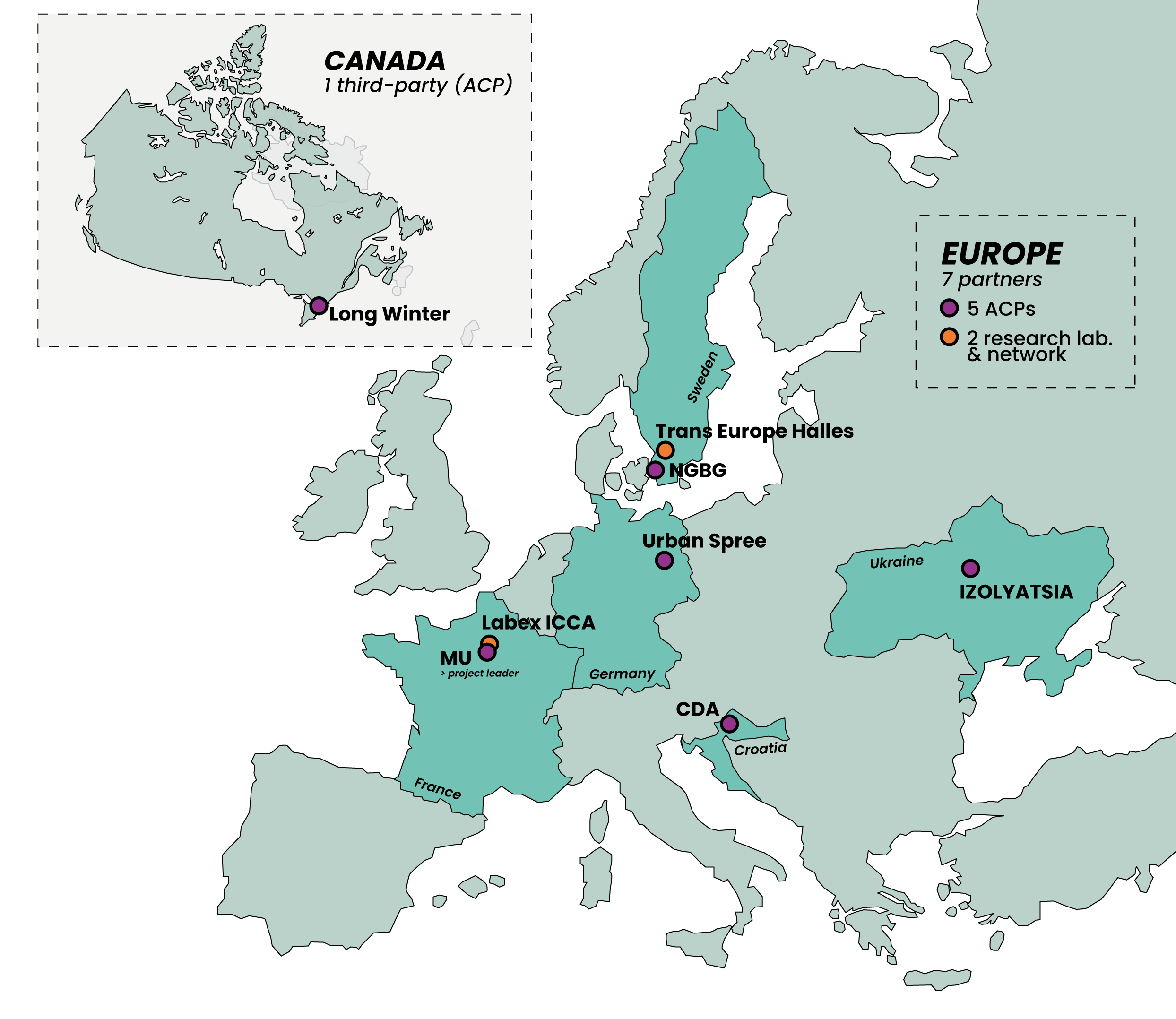 Over the last 20 years, Alternative Cultural Places (ACPs) have emerged across Europe through the actions of creative workers. The covid-19 crisis highlighted the role of ACPs in our local ecosystems as laboratories of sustainable practices. However, the unique value of these places remains unclear.
ALTER-PLACES explores the value and contribution of sustainable practices implemented by ACPs in the development of green, fair, diverse urban ecosystems. Taking as starting point a holistic view of sustainability (social, economic and environmental) this cooperative project has 4 objectives:
1. Explore the innovative sustainable practices developed by ACPs and evaluate their role in urban resilience
2. Identify & assess obstacles and tensions that ACPs face in developing sustainable strategies
3. Build the capacity of ACPs to implement and monitor durable projects through exchange of best practices
4. Raise public authorities' awareness regarding the role and value of ACPs in fair urban renewal.
ALTER-PLACES has been conceived with a pluri-disciplinary, participatory and mixed methods approach.
The project design is composed of 4 phases: project set up, surveying & mapping, co-constructing, prototyping & testing, disseminating & evaluating. Our target groups include creative workers in ACPs, ACPs' stakeholders, and local, national and European networks. These groups will benefit from a mapping of innovative practices developed by ACPs across Europe, 4 prototypes to evaluate sustainability approaches among ACPs, to implement relevant methods, to mutualize resources and to improve audiences' experience. Finally, the project will generate critical data about the state of sustainability considerations within and among ACPs and communities, and explore implications of different political contexts (Ukrainian, European and Canada). Our intent is to trigger and enhance the capacity of ACPs as key drivers of sustain-ABLE practices in urban ecosystems and the cultural sector.
Through a number of case-studies of ACPs facing important urban regeneration challenge and innovative methodologies, ALTER-PLACES seeks to contextualize and understand the tensions involved in the implementation of inclusive and sustainable models and evaluate their impact in relation to several layers :
1. Space appropriation & "value in use"
the physical space and building fitting, DIY & minimal ways for retrofitting
2. Internal & work organisation
in terms of concerns taken vs working conditions, and regarding governance
3. Programming & Audiences
hybrid programs, artists, public, and tensions in artistic production
This project is set up with 3 different types of methodology & phases to explore the conditions and tensions:
Phase 1 (M1-M2): Preparation
Phase 2 (M1-M7): Surveying & Mapping
Through a quantitative survey, supporting by Trans Europe Halles network, our aim is to map best practices and places regarding their concerns about the ecological transition.
Phase 3 (M6-M15): Co-construction, prototyping & testing
The objective is to meet and discuss the tensions involved regarding the 3 topics, and to really immerse ourselves in the life of places during 3 on-site workshops. During these workshops and one online exchange session, the idea is to build prototypes with advice on how to implement a sustainable model for ACP living, festivals, concerts, exhibitions & artistic residencies.
Phase 4 (M12-M18): Disseminating & evaluating
This phase is about delivering the project results, disseminating findings and evaluating project impacts, particularly through a final event (at La Station at the end of 2024) designed like a prototype exhibition. The objective of this phase is to transfer the knowledge acquired and to provide feedback of the learnt lessons and the recommendations to the project target groups.
Scientific coordinator:
Natalia Bobadilla –
Team members:
– Ilona Touchard: Dissemination
– Fabrice Rochelandet: Quantitative survey 
KICK-OFF MEETING
December 13th 2023 at La Station – Gare des Mines