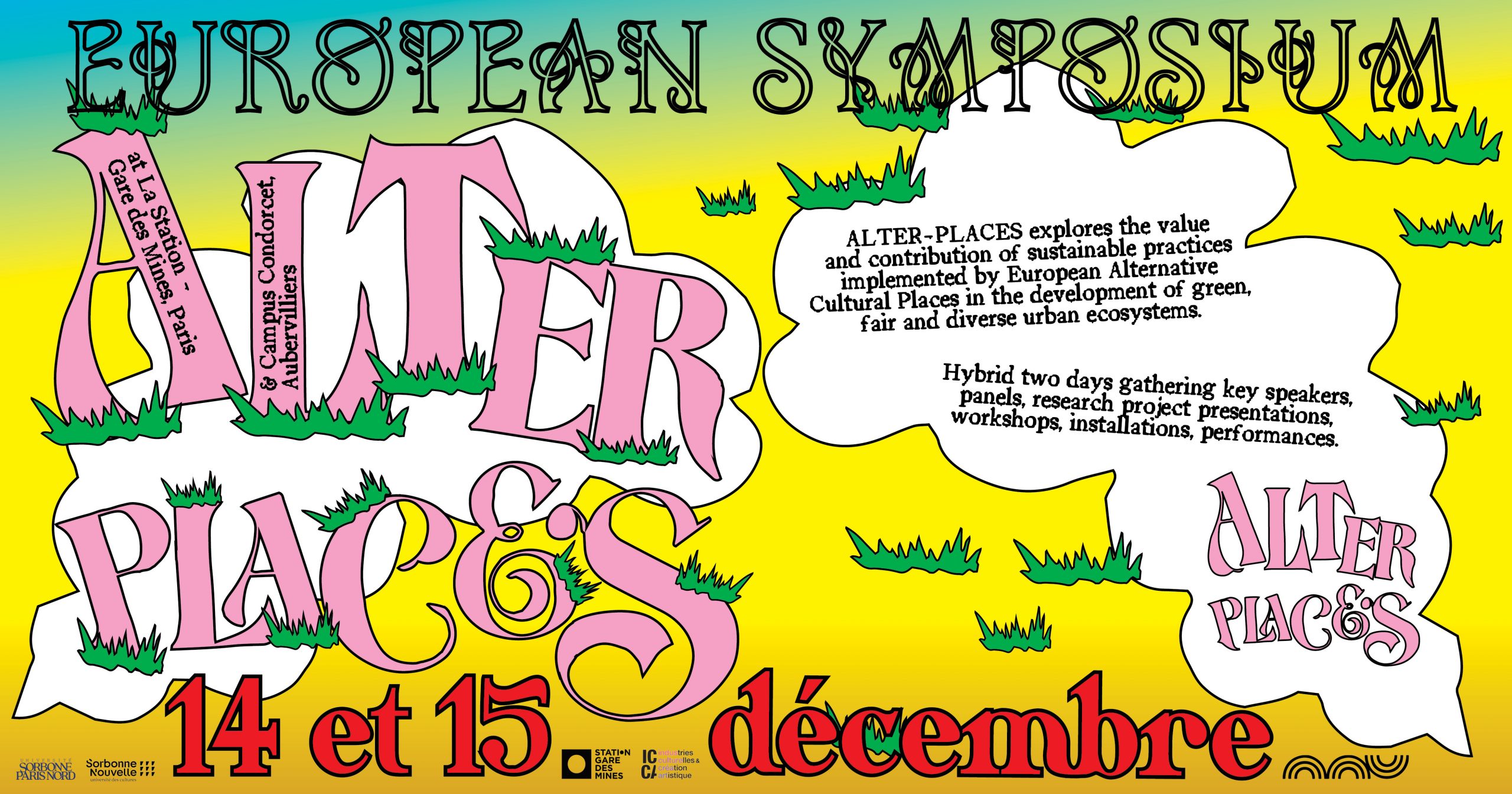 The LabEx ICCA in partnership with La Station – Gare des Mines, Université Sorbonne Paris Nord and Université Sorbonne Nouvelle are pleased to announce:
EUROPEAN ALTER-PLACES SYMPOSIUM
Exploring eco-practices for sustainable alternative cultural places
📅14 December 2023
📍 La Station – Gare des Mines, Paris
and
📅 15 December 2023
📍 Centre des Colloques, Campus Condorcet, Aubervilliers
ALTER-PLACES explores the value and contribution of sustainable practices implemented by European Alternative Cultural Places (ACPs) in the development of green, fair and diverse urban ecosystems.
Hybrid two days symposium gathering key speakers, panels, research project presentations, workshops, performances.
The symposium is based on and inspired by Guattari's concept of ecosophy which argues that ecological transition requires a new type of ethico-political articulation between environmental ecology, social, and human subjectivity.
Topics and issues
In a global context affected by multiple crises (climatic, sanitary, social, identity-related, etc.), alternative cultural places play a key role through more modest and cooperative ways by generating original and sustainable solutions driven by the engagement of artists and creative practitioners.
However, the practices developed, the value and knowledge produced remain embedded as tacit knowledge that need to be documented and transferred. ALTER-PLACES symposium has the ambition to explore the innovative sustainable practices developed by ACPs and evaluate their role in urban resilience and that of the cultural and artistic sector.
From a more critical perspective, it is paramount to examine and reveal the obstacles and tensions encountered by ACPs to implement valuable and ecological practices. In a context where alternative cultural places are already struggling to ensure the sustainability of their activities and the occupation of spaces, how can they become SUSTAIN-ABLE, i.e. capable of actively supporting the ecological transition?
Over these two days, conferences, panels and workshops will bring together professionals and researchers to clarify this vision and outline practical perspectives on key issues such as:
How to create a favourable ecosystem for the transfer of tacit knowledge developed by alternative cultural places and more institutional venues?
How to overcome the existing tensions between the desire to create sustainable models and the pursuit of more engaged practices?
How can public authorities act to support and sustain the ecological processes implemented by these places?
👉 Registration is required to take part : Click here
For more information about the program : click here
With the participation of @ Nathalie Blanc (LADYSS) @ Sacha Kagan (Leuphana University) @ Tiffany Fukuma (Trans Europe Halles) @Oli Mould (Royal Holloway) @ Philippe Mairesse (ICN/CEREFIGE) @ Robert Willim (Lund University) @ Per-Johan Dahl (Lund University) @ Laurine Schott (Collectif 17h25) @ Cécile Sorin (Université Paris 8) @ Makis Solomos (Université Paris 8) @ Fabrice Rochelandet (Université Sorbonne Nouvelle) @ Natalia Bobadilla (Université Sorbonne Paris Nord) @ Ilona Touchard (LabEx ICCA) @ Olivier Le Gal (La Station) @ David Georges François (La Station) @ Dominique Leroy (Kerminy) @ Marina Pirot (Kerminy) @ Jeanne Robet @ Trans Europe Halles @ IZOLYATSIA @ Mocvara @ Urban Spree @ NGBG @ Long Winter @ Brunnenpassage @ Communitism
#alterplaces #european #alternativeculturalplace #ecosophy #sustainability #ecologicaltransition